King Cobra: 8mm Steel Steering Turnbuckle to fit HPI Baja 5B and 5T.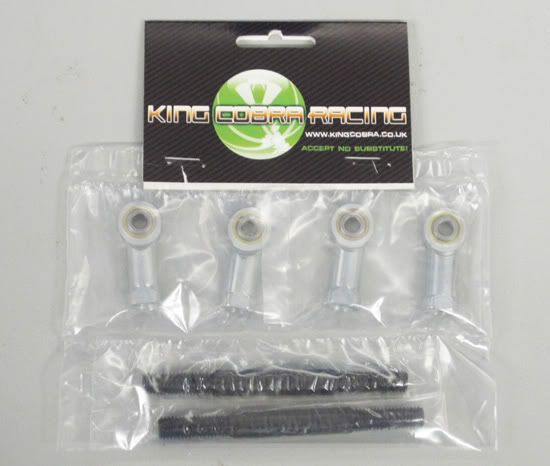 We have a new heavy duty steel steering turnbuckle set with optional upgraded steel rod-ends to make your HPI Baja 5B and 5T as "tough as old boots!"
We have a new heavy duty steel turnbuckle set to fit onto your HPI Baja 5B or 5T large scale buggies.
These super-heavy duty pair of steel turnbuckles are made from solid steel hexagonal bar ( not cast) and will fit any M8 plastic rod ends from MCD or FG to give a fast upgrade to strengthen your car.
The steering turnbuckles can be bought in a pack of two, or complete with 2 left hand chrome steel rod-ends, and two right hand chrome steel rod-ends to make them vertually "bullet proof".
The full set of steering turnbuckles complete with chrome steel rod-ends is part number KCR122 and will cost just £29.99 a set.
A pair of the heavy duty M8 steering turnbuckles has the part number KCR091A and will cost £9.99 for a pair.
These parts are available from any good model shop who can order them from us and get them in the shop "next day" so you don't have to wait too long to get them fitted.
They can also be bought online from
http://www.rossmod.co.uk
" onclick="window.open(this.href);return false; As more online dealers stock them, we will add their site details too.
www.kingcobra.co.uk